What is Stop Traffic Walk?
The Stop Traffic Walk raised funds for the nation's largest human trafficking rescue & rehabilitation program at the Phoenix Dream Center and StreetLightUSA. The funds you raise through Stop Traffic Walks in your city will help rescue trafficked individuals, and give them the skills necessary to build a strong and vibrant life.
Upcoming Walks
Phoenix, AZ – January 30th 2021
"2020 Stop Traffic Walk Honored Hero"
Jade ran away from home at a young age and found herself surrounded by individuals who were making bad decisions. She fell into sex trafficking when she was 14 years old and was introduced to the lifestyle by an older gentleman. She was trafficked from age 14 to 23 years. Jade eventually found her way to the Phoenix Dream Center in July of 2016. The Dream Center was the foundation that helped change her life.
Why should I join this cause?
Only 1 out of every 100 individuals trafficked will be rescued.
HUMAN TRAFFICKING. It's modern-day slavery. And it's believed to be the third-largest criminal activity in the world. There are an estimated 40 million victims of human trafficking, globally. 
Before their lives have even begun, many young children are forced to endure horrors beyond imagination.
This is not something that only happens in some distant part of the world. This nightmare exists here in our own backyard!
By donating to the cause or by raising money through the walks in your city will help in the fight to end human trafficking. Use the buttons below to Donate or get information about hosting a walk in your city. Thank You!
The Stop Traffic Walk Team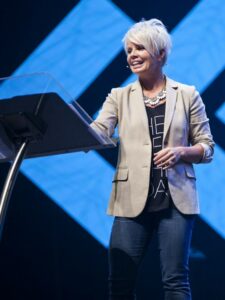 Kristie Barnett Sexton
Chair
Kristie Barnett Sexton is responsible for the vision and strategy behind this event that will promote community involvement and raise awareness for the Phoenix Dream Center and StreetLightUSA, the nation's largest human trafficking rescue & rehabilitation programs.
"With Arizona ranking 16th in the nation for human sex trafficking, it is still shocking to me that so many of the people I talk to are unaware that this is going on in our own backyards. While only 1 out of 100 victims are rescued, it is our responsibility to do something about this. By shedding a light on this issue, through events like the Stop Traffic Walk, we can begin to create change."
Kristie has always had a heart for helping her community. She was raised in a family where outreach and service were part of their daily lives. Through the years, Kristie has practiced these values with her own family and their business in various ways. Kristie and her husband are founders and owners of Sexton Services, where philanthropy is one of their core pillars. "It has always been a priority for us to instill the power of service into our children and our employees. Everything we can do to help, no matter how big or how small, will make a difference." – Kristie Barnett Sexton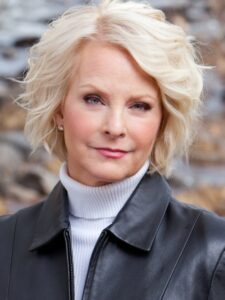 Cindy McCain
Honorary Co-Chair
Cindy McCain is a national leader in the fight against human trafficking and lends her support to the Stop Traffic Walk and its efforts to alleviate the suffering of victims of this crime in Arizona. Cindy is a long-time friend and supporter of the Phoenix Dream Center and StreetLightUSA and has made a significant difference in the fight against human trafficking.